Given our current circumstances under the COVID-19 lockdown, I find myself spending time doing the things I have always wanted to do. Things such as baking a cheesecake. And not just any cheesecake, a NO-BAKE Matcha Cheesecake from Mountain Rose Herbs. Yes, you read correctly, there is NO COOKING INVOLVED, which makes it my new favorite. Plus it has a lemon crust, swoon…
The benefits of matcha green tea are numerous but the fact that it can boost your immune system made me think that this was the ideal time to try it out.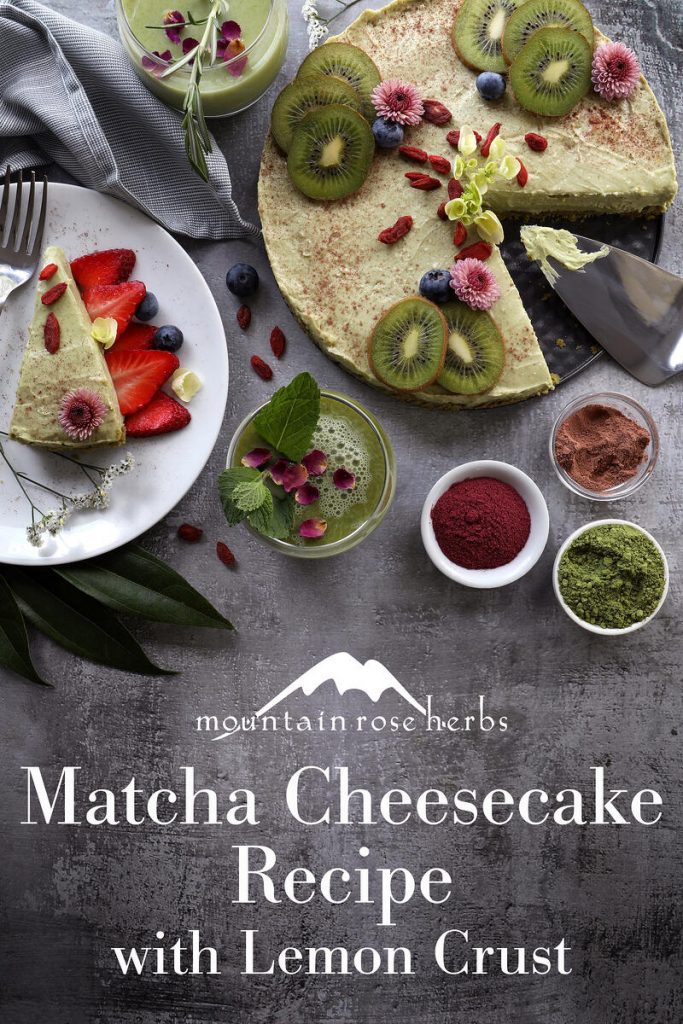 No-Bake Matcha Cheesecake Recipe
Ingredients
Directions
Prepare the crust first by combining shortbread cookies, melted butter, lemon peel powder, and 1 teaspoon of matcha in a food processor, pulsing until ingredients are blended into a fine, crumbly texture.
Press crust mixture into the base of a 9-inch springform baking ring or baking dish of choice. Place in the fridge while preparing the filling.
For the filling, place cream cheese, sugar, sour cream, and remaining matcha tea into a bowl or mixer. Mix until ingredients are well blended and set aside.
Pour whipping cream into a chilled bowl and mix well until thick peaks form.
Begin to fold the whipped cream into the cream cheese mixture while adding the vanilla extract and lemon juice.
Once evenly mixed, top the crust with the cheesecake filling and spread evenly with a spatula.
Refrigerate your cheesecake for at least 3 hours.
Once set, carefully use a knife or spatula to separate the cake from the inner lining of the springform ring to allow easier removal.
Decorate your cake using colorful herbal powders, fresh fruit, whipped cream, or a delicious homemade herbal syrup!
If you'd like more matcha recipes from Mountain Rose herbs please click here.
If you love lemon you might also like this Gluten-free Lemon Yogurt cake.