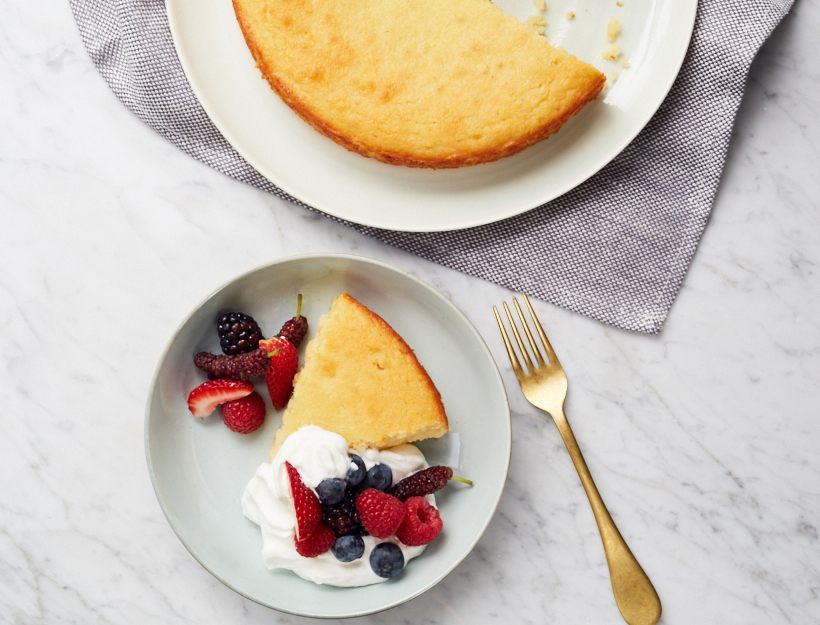 I found this Gluten-free lemon yogurt cake recipe on Goop but decided to make a couple of adjustments to it. However, you need not follow my lead…
Almonds are considered to be a super food. Full of magnesium, vitamin E, mono-saturated fats and protein they are super healthy so I would even eat this cake for breakfast (I know right?).
Gluten-Free Lemon Yogurt Cake
Ingredients:
SERVES 8-10
2 ½ cups lightly packed almond flour – *replaced with almond meal 
2 teaspoons baking powder
½ teaspoon kosher salt
1 cup whole milk yogurt – I use Greek Yogurt
½ cup sugar – replaced with 1/3 cup of maple syrup
2 eggs
1 teaspoon vanilla extract
½ teaspoon almond extract
zest of 1 medium lemon
¼ cup olive oil + extra to grease pan – ** replaced with 1/4 cup of organic grapeseed oil and I used butter to grease the pan.
Instructions:
Preheat the oven to 

350°F 

– Lower to 325°F as maple syrup caramelizes faster than sugar.
In a large bowl, whisk together 

almond flour 

 almond meal, baking powder, and kosher salt.
In a separate bowl, whisk together yogurt, 

sugar 

maple syrup, eggs, vanilla extract, almond extract, and lemon zest.
Add the wet ingredients to the dry and stir to combine. Slowly fold in the ¼ cup 

olive 

grapeseed oil.
Line an 8-inch cake pan with parchment paper and coat lightly with 

olive oil 

butter.
Transfer the batter to the pan, using a spatula to spread it evenly.
Place on a rack in the middle of your preheated oven and bake for 35-45 minutes (or until the cake is lightly browned and a toothpick comes out clean). Due to the addition of the maple syrup the cake will come out darker.
Let cool before eating.
Originally featured in Baking (Successfully) With Alternate Flours
Photo and recipe courtesy Goop
* I tried the recipe with the almond flour and I found it to be too crumbly vs. the almond      meal. 
** I prefer grapeseed oil in baking as it doesn't have a very distinct taste.